It's day 2 of sneak peeks for the December release from
Taylored Expressions
and today it's fun and shenanigans! Everything you see this week will be available on
Thursday, December 6th
. Be sure to check out each of the creative team members' blogs for all of the sneak peeks - starting with the
Taylored Expressions blog
.
Taylored Expressions products are an amazing mix of styles including gorgeous, sweet, Christian and...extreme sarcasm!! The new set
Shenanigans
falls squarely in the sarcasm category. Check out this sentiment.
That sentiment started out so sweet - and ended so surprisingly funny! There are eight sentiments in the set and each of them will make you chuckle, laugh out loud, or snort in surprise!! Your friends and loved ones won't know what hit them if you give them these cards. (Can you tell I love them all?!)
I decided to use the previously released
Sarcasti-chick
Stamp and Die Combo
mostly because she's cute but also because the release added her
Winter Closet
and I couldn't resist that hat! I also gave her a bottle of wine from the original set.
Given it's the release of "love", I decided to put her on
On the Right Track - Heart
so she could actually do a flip! I do have to tell you that she's fairly heavy for the track series of dies. It works - I promise - I'm still flipping her and giggling as I write this. But you need to make very certain that the track discs are exactly in the middle of her to balance her. I did not realize that when I put this actual card together and the discs are near her bottom so she's nicely lined up with the sentiment. But left to her own devices, she'd hang upside down because she's top heavy!!
Here's the supply list for this card. (Check out the
TE blog
for a bigger picture of
Shenanigans
so you can see what I'm talking about!) Keep reading because I have another sneak peek and a chance to win prizes!
SUPPLY LIST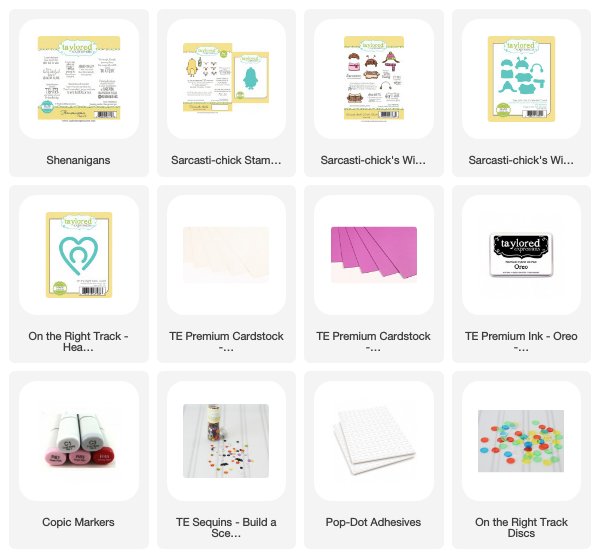 Taylored Expressions is celebrating Release Week with a a giveaway during each day of sneak peeks! Visit the
TE blog
to answer Taylor's Question of the Day for a chance to win one of the latest products before you can buy it!
The fun set for today is
Punny Notes
. It isn't sarcastic but it
is
sweet and fun. There are 8 images with a punny sentiment for each. I used them on little bracket notecards. I'm going to show them to my little nieces because I'm sure they will hang out one weekend in my craft room to make all of their Valentines and these are a fabulous option.
Did you notice the envelopes? They are little 3x3's and then to go with the mail series of stamps, we now have mini-mail!! I used four different stamps to show you the variety. Here are each of the cards and envelopes.
Taylored Expressions has a variety of options if you want to make mini cards. I used the Bracket Notecard with the coordinating Stitched Bracket Stacklet. Also available is a Scalloped Notecard and the Tuck & Close Notecard. (Of course, it would also work as a little scene on a full-size card!) I also used a few products from the new die set
Notecard Accessories
in my backgrounds. This set includes a frame, and options for the ground, along with branches, leaves and clouds. Of course, given my passion for little scenes created from dies - I also used a wide variety of previously-released dies from the Little Bits series - they are all linked below.
Tomorrow is seriously bright and colorful, and it's still all about love. And definitely head over to the
TE blog
to see all of the rest of the inspiration and to answer the question for a chance at prizes.
SUPPLY LIST