It's day 1 of sneak peeks for the December release from
Taylored Expressions
and it's all about love (with a little fun and shenanigans thrown in!) You'll see an amazing variety over the next few days. Everything you see this week will be available on
Thursday, December 6th
. Be sure to check out each of the creative team members' blogs for all of the sneak peeks - starting with the
Taylored Expressions blog
. (There are some amazing new designers on the creative team - be sure to give them a big welcome)
There is a great new group of products with this release - framed sentiments with a cutting plate that they can fit into and also coordinating flowers. I love the flexibility you have with products that work together but also can stand alone. (To see them together, keep scrolling down to see the Crafty Points bundle.)
I used the "love" script without the cutting plate, because there's also a new stencil that I
had
to play with - the
Subway Tile Stencil
.
I added a a tiny flower and leaf from the new
Bloomers 9
set. There are three sizes and, as part of the entire group of products, they match the cutting plate (see below).
It's hard to see because I used white, but the bloomers have coordinating backers so you could add two colors (see the graphic below) or go with the top and back in the same color for a dimensional look! Also FYI, I used a translucent embossing paste on the Subway Tile stencil to give it the shine.
Isn't this a wonderfully flexible group of products. And there's a great deal on the bundle of all of these coordinating products. Check out the
TE blog
for all of the details.
Here's the supply list for this card. Keep reading because I have another sneak peek and a chance to win prizes!
SUPPLY LIST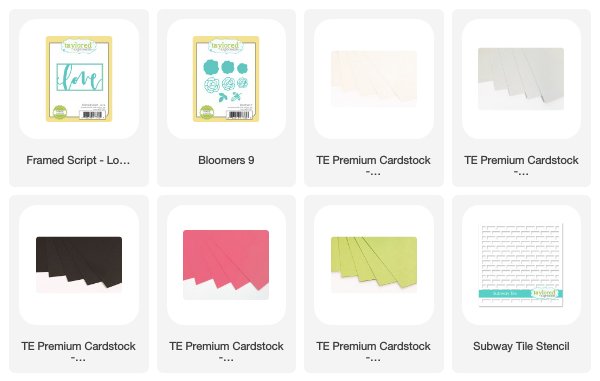 Taylored Expressions is celebrating Release Week with a a giveaway during each day of sneak peeks! Visit the
TE blog
to answer Taylor's Question of the Day for a chance to win one of the latest products before you can buy it!
In the first card, I used a cute little bloomers flower. This card uses a realistic, detailed flower -
Layer It - Daisy
.
I adore the look of this daisy. The top layer gives it dimension and shadow. I used two of the bottom layers to give it fullness. I love how realistic it is.
Most of this release is about love - I went in a different direction for "love" and used an encouraging sentiment from the previously released In & Out - Get Well. The flower was so sweet and cheerful, I felt like it would make a lovely card for a cheerful "I'm here for you". I had pulled out a bright yellow to use for the daisy - Lemon Meringue - but then I decided I wanted a little softer look and went with Pineapple (which I also realized is amazing with Toffee!) A little Sea Salt cardstock makes the perfect top layer.
Today was love and encouragement. Tomorrow is entirely different - shenanigans and puns - but still all about love! Head over to the
TE blog
for more sneak peeks, then be sure to come back tomorrow.
SUPPLY LIST