It's day 1 of sneak peeks for the October release from
Taylored Expressions
and 'tis the season!!! We have so many new holiday products - and such a variety from cute to elegant, vintage to trendy, stencils to dies! Everything you see today will be available on
Thursday, October 3rd.
Be sure to check out each of the creative team members' blogs for all of the sneak peeks starting with the
Taylored Expressions blog
.
I have two cards today. First I want to show you the
Bright Lights Background
, a fabulous background the perfectly frames most sentiments including the brand new
Handlettered Holidays 2!
This card was amazingly simple. The background comes with a little stamp to add the lights, then I took my Blender Brushes and brushed on a light glow. The Handlettered Holidays 2 fit very nicely inside, but I used their coordinating dies to pop them up for a little more emphasis.
I got that card all done and then I started looking through the rest of the new holiday release and saw the Pine Clippings die set. I thought it would be fun to do the same background but sprinkle in some pine branches.
I put some of the pines right over the lights; but I fussy cut other lights and put them on top of the pines. I was going for that random look of lights on a tree.
I like how both of these turned out - same stamps, same sentiment, same colors, but a different look.
Here's the supply list for this card - but keep scrolling to see a second card and for all the fun and prizes with this release!
SUPPLY LIST
Remember that the new links won't work until Thursday.
Glowing Lights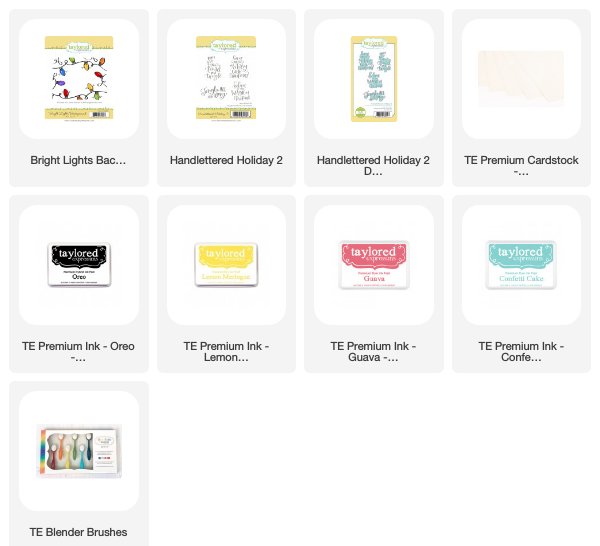 Pine Boughs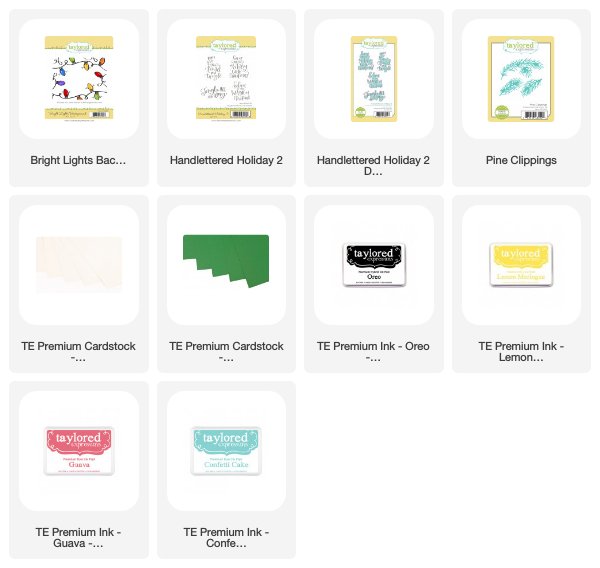 Have yourself a merry little Christmas! Every order placed between October 3rd - October 6th will earn
DOUBLE
crafty points to apply to a future purchase! Plus, receive
FREE U.S. shipping
on orders over $25 OR $5 off shipping for residents of Canada with the code CANADA5.
If you browse any of the social media posts by Taylored Expressions, you'll see a lot of people asking for more Inky Fingers and here it is!! Inky Fingers - Christmas. And all the little Christmas elements and creatures are absolutely charming!
I picked three of the cute little characters and added them on tags. Santa isn't actually red (or Cherry Pop) because I kept getting blobs of red that covered up his details too much. (I must just have a heavy touch when I'm fingerprinting.) Although this card doesn't show it off well - I'm using the brand new Watermelon Ink. We've had the cardstock for a long time, but now there's an ink to match. It's been one of my go-to cardstocks so I'm thrilled to have this toned-down red in cardstock and ink.
And for even more fun and prizes,
Taylored Expressions is celebrating Release Week with a giveaway during each day of sneak peeks! Visit the TE blog to answer Taylor's Question of the Day for a chance to win one of the latest products before you can buy it!
Be sure to come back tomorrow - it's still Christmas around here and tomorrow is a snow day (and just maybe it includes a new addition or two to a very popular stamp series)!
SUPPLY LIST
Remember that the new links won't work until Thursday.