Taylored Expressions is celebrating their 11th birthday!! Happy Birthday!! Eleven years of amazing products and they just keep coming.
We are celebrating with lots of new birthday products and with presents...for you!! First the new products. Starting today through Thursday the entire creative team will be showing off the new products - so be sure to jump over to the
Taylored Expressions blog
. And you'll be excited to know that everything is already available in the
new products section of the TE store
. (As a side note, be sure to be watching your emails and the TE blog for information on the next supply of blender brushes starting this week.)
My first card is going to be for one of the men in my life. At 19, 21 and the-husband-whose-age-won't-be-mentioned, cutesy just doesn't work for them. Nor does bling, bright colors or fun patterned paper. What can I say - they are a bit picky. I fell in love with the
Birthday Basics
set for them.
It really is just a basic set - and it definitely doesn't have to be masculine. You'll love it even more when you check out the inspiration by the rest of the team.
I used very masculine colors. Two of the colors were new in the last release - the Honey and the Avocado - along with Blue Corn. Even though they are deep, rich colors, the card stays very celebratory with the fun images and even the little sparkle-looking accents!
Here's the supply list for this card; keep reading for one more card.
SUPPLY LIST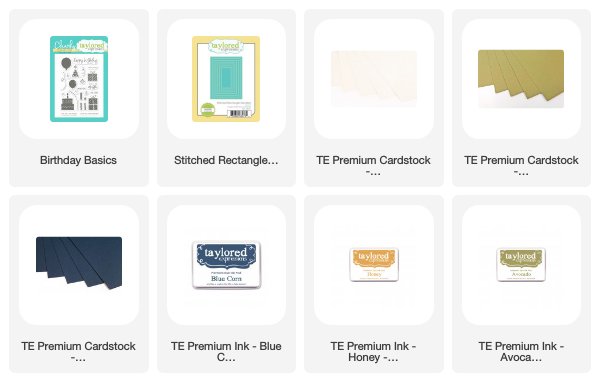 Before I get to the next card, here's how you can jump in on the celebration!
Receive a free Share Joy enamel pin with every purchase of new release products (while supplies last)

Free US shipping on orders of $50+

Orders of $75 will be entered to win 1 of 11 gift certificates to the TE store: ten $50 gift certificates, one $100 gift certificate!
Offers valid 9/10 - 9/22 and while supplies last. Gift certificate winners will be announced on the TE blog on 9/23.
You'll also want to check out the TE Blog this week as we share the stories of TE friends and fans who are sharing joy through their handmade cards!
During our birthday celebration, Taylored Expressions
will donate 5% of new release product sales to support one customer's mission to provide a backpack filled with love and hope to children being placed in foster care.
Read Louise's story on the TE Blog and continue to follow along as we tell Share Joy stories throughout our birthday month!
My next card uses quite a variety of new products. An addition to the Backstory line of stamps with Backstory - Birthday Backgrounds, a new Caps Lock die - Caps Lock - Yay, and more Simple Strips - Simple Strips - Birthday.
I used my Misti to stamp white on the Toffee. I also stamped the image on a scrap paper. Then I was able to line up the letters where I wanted them to fit on the background - stamp and emboss - and then use my Blender Brushes to add color.
As a final touch, I added a few sentiment strips (with lots of leftovers that I kept for future cards)
Be sure to come back tomorrow for two more cards from this release. And definitely head over to the TE blog to see the rest of the release. Remember - it's all available right now!
SUPPLY LIST