It's day 2 of sneak peeks for the June release from
Taylored Expressions
. Today we're going to splash in the water! Everything you see this week will be available on
Thursday, June 6th.
Be sure to check out each of the creative team members' blogs for all of the sneak peeks - starting with the
Taylored Expressions blog
.
Floaties make me happy. I grew up in a town with a creek through it and the best summer day was to throw an inner tube in and float through the entire town - through the golf course, the fairgrounds, by the McDonalds (it was a big deal way back then!) and the grocery store. Of course, I had a black inner tube - nothing as cute as the floaties in the new stamp set
Floaties!
I took a few little pieces from another new set
Build a Background - Waves
. Other creative team members are showing off the whole set today - I'll have more on Thursday. Today it's just the little splashes and the die cut wave. I painted some Shimmer Liquid Watercolor on the waves and dropped some Nuvo White Blizzard Glitter Drops on the splashes.
There are so many other cute images and sentiments in this set - "you're the air in my floaty", "hope your day is a splash", "thanks for keeping me afloat" and more. And the little critters in their floaties all make me smile!!
Here's the supply list for this card. Keep reading because I have another sneak peek and a chance to win prizes!!
SUPPLY LIST
Remember that the new links won't work until Thursday.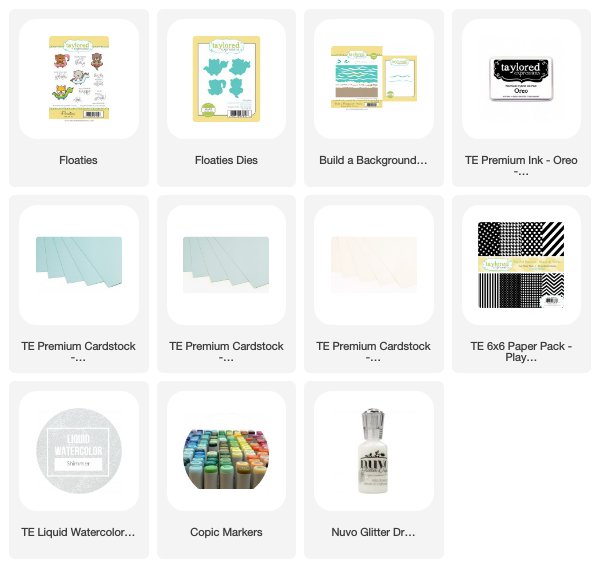 Taylored Expressions is celebrating Release Week with a giveaway during each day of sneak peeks! Visit the
TE blog
to answer Taylor's Question of the Day for a chance to win one of the latest products before you can buy it!
Another way to add water and splashes is with the new
Make a Splash Background.
I added the little dots with Nuvo Calming Aqua Crystal Drops. They are a great match to my all-time favorite blue - Confetti Cake! The splashes are such a fresh background - I love it with these cool colors.
I paired the splashes with the previously released
O-Fish-Ally Awesome
and a tag from
Tag Stacklets 1
. I added just a tiny bit of black to ground it all.
Today we had water with a lot of splashing! Tomorrow will be a patriotic day. Hope to see you back! In the meantime, check out the rest of the creative team starting with the
TE blog
SUPPLY LIST
Remember that the new links won't work until Thursday.