It's day 1 of sneak peeks for the June release from
Taylored Expressions
. You'll see such an amazing variety including crafty friends, lots of water and splashing, and patriotism! Everything you see this week will be available on
Thursday, June 6th.
Be sure to check out each of the creative team members' blogs for all of the sneak peeks - starting with the
Taylored Expressions blog
.
I adore products that make it easy to make complicated-looking cards. The new
Gatefold Reveal die
is not at the top of my favorites list!
Here's the outside. All you have to do is cut a 5 1/2" by 8 1/2" piece of paper. Then score both sides at 2 1/8" so that the two sides fold in.
Now check out the inside!! This is where the dies come into play. As you open it - the center opens up to reveal the sentiment on the inside!
The inside piece with the perfectly-sized window and the two little reveal pieces are the die set!
Now let's talk about those fun sentiments. We all have crafty friends and this stamp set is called
Hey, Crafty Friend
. The big sentiment is for the outside and then there's a wide variety of inside sentiments that work for multiple occasions for that special friend. I picked "you're the glitter to my glue" mostly so I could use glitter! I particularly relate to another the sentiment - you enable me - but there's also birthday and encouragement sentiments too. It's perfect for any occasion.
For the glittery circles, I used the
Polka Party Stencil
and coated it with Tonic Nuvo Moonstone Glitter Paste to get those wonderfully sparkly circles. I plopped my all-time favorite bow on it for a bit more decoration.
Here's the supply list for this card. Keep reading because I have another sneak peek and a chance to win prizes!!
SUPPLY LIST
Remember that the new links won't work until Thursday.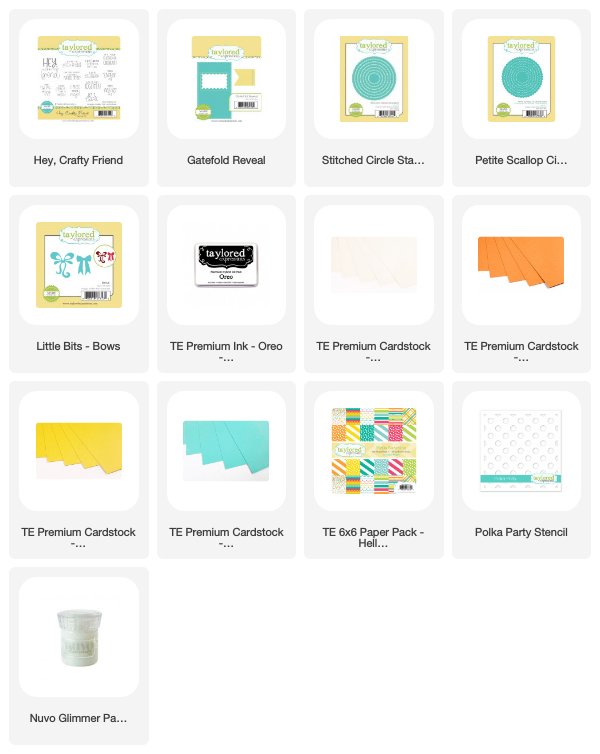 Taylored Expressions is celebrating Release Week with a giveaway during each day of sneak peeks! Visit the
TE blog
to answer Taylor's Question of the Day for a chance to win one of the latest products before you can buy it!
Keeping the first card in mind, there's another new product to coordinate with it. It's the
Better Half Cutting Plate
which are half-size card front dies (5 1/2" x 2 1/8") so they fit perfectly on both sides of the gatefold card. However - personally, I don't buy anything if it's a single use product. So I played around with the two halves and came up with this card.
I love how the two of them look on top of each other. Almost an optical illusion - so fun!! I'm not sure where the bee idea came from. I actually started with blues and was thinking sky or water - but you'll see as the week goes along, we have a lot of new water products coming up. I wanted a different summery look and remembered this previously released
Little Bits - Bumble Bee
which I've always thought is the most darling bee out there! I found the sentiment in the
One in a Buzzillion
stamp set and added it to the
Sentiment Stacker 1
.
Today I showed you a gatefold card with a fun reveal inside and two cutting plates that you can decorate it with or use on their own. Be sure to check out the rest of the design team for lots of other ideas for these products - starting with the
Taylored Expressions blog
.
SUPPLY LIST
Remember that the new links won't work until Thursday.