It's day 3 of sneak peeks for the February release from
Taylored Expressions
and I'm stepping away from Easter sneak peeks to some charming critters and fun cacti.
Everything you see this week will be available on
Thursday, February 7th
. Be sure to check out each of the creative team members' blogs for all of the sneak peeks - starting with the
Taylored Expressions blog
.
You cannot tell me that these guys don't make you grin!!
I love the critters from
Look Who's Talking
. There's also a bear, a rat(!) and a moose along with the perfect sentiments for each in that really fun font. Obviously I used the llama (alpaca? - I don't know the difference) multiple times. I differentiated them with wool colors and face colors then I plopped on some hats and bows. (FYI - the sentiment uses the Banner Stacklets 1 die but I cut part way, flipped it and cut the other side.)
This is going out to my son for his 23rd birthday. He's at college and has a good group of friends to celebrate with. He and his friends are still young and wide-eyed so I definitely envisioned them as I was making this card!
Here's the supply list for this card. Keep reading because I have another sneak peek and a chance to win prizes!
SUPPLY LIST
Remember that the new links won't work until Thursday.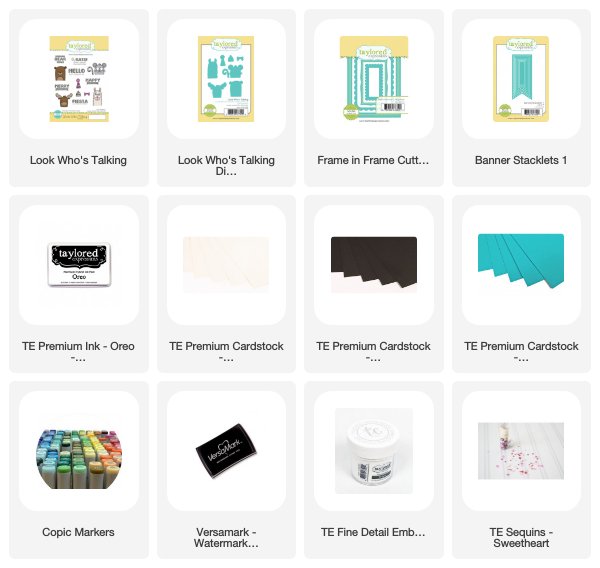 Taylored Expressions is celebrating Release Week with a a giveaway during each day of sneak peeks! Visit the
TE blog
to answer Taylor's Question of the Day for a chance to win one of the latest products before you can buy it!



Another new set this release is Can't Touch This - LOVE the name since it's a set of cacti! It's a great all-around set because with the great detail on each cactus they can stand alone and be quite nice - or you can add their faces and they are very cute!
The coordinating die set also has a sombrero and a variety of pots so I "planted" my cacti and dressed them up for a party. I used a birthday sentiment but there are a variety of other options such as "pretty fly for a cacti" - fun!!
There's a special deal with this set. Check out the fabulous stamps and dies - and you get a freebie with the bundle!!
Tomorrow is release day! I'll have a few more peeks focused on Christian Easter sentiments. Head over to the
TE blog
for more sneak peeks, then be sure to come back tomorrow.
SUPPLY LIST
Remember that the new links won't work until Thursday.