It's day 1 of sneak peeks for the August release from
Taylored Expressions
. We're focusing on fall so you can get your stash in place to start creating cards with beautiful fall leaves, spooky (or maybe goofy) Halloween fun, and elegant Thanksgiving sentiments! Today is the spooky and goofy day! Everything you see this week will be available on
Thursday, August 2
. Be sure to check out each of the creative team members' blogs for all of the sneak peeks - starting with the
Taylored Expressions blog
.
My first project uses a wide variety of new products -
Tomb Sweet Tomb
sentiments,
Tombstone Trio
dies, the
Bare Trees Background
, a new Playful Pattern Paper Pack in black and white and splashes of the very recently released Liquid Watercolors. I think you can guess what type of card this is - spooky!!
This was
so
fun to create. I started with watercolor paper and I used Liquid Watercolors in Blue Corn, Plum Punch and Lemon Meringue to paint the glow behind the tombstones. I used Oreo Liquid Watercolor to make it a little messy with some splatters.
I would highly recommend the use of a Misti tool to stamp the trees, especially on a textured watercolor paper. I definitely wanted it to be rich and black and creepy. I had stamped the sentiment from Tomb Sweet Tomb on the banner but it didn't look quite right up to the edge of the card so I added a bit of contrast with the black and white stripes.
I cut the tombstones out of Earl Grey then messed them up a bit by rubbing the edges on the ink pad. I heat embossed three of the fun "names" from the set.
Also new in this release is an addition to the mail line of stamps to decorate envelopes -
Spooky Mail
. There are so many options in each set - but given the detail in the card, I elected to just go with a colorful envelope and a spooky scene (plus a grinning bat) all in white.
Here's the supply list for this card but definitely keep reading because I have another sneak peek and a chance to win prizes!
SUPPLY LIST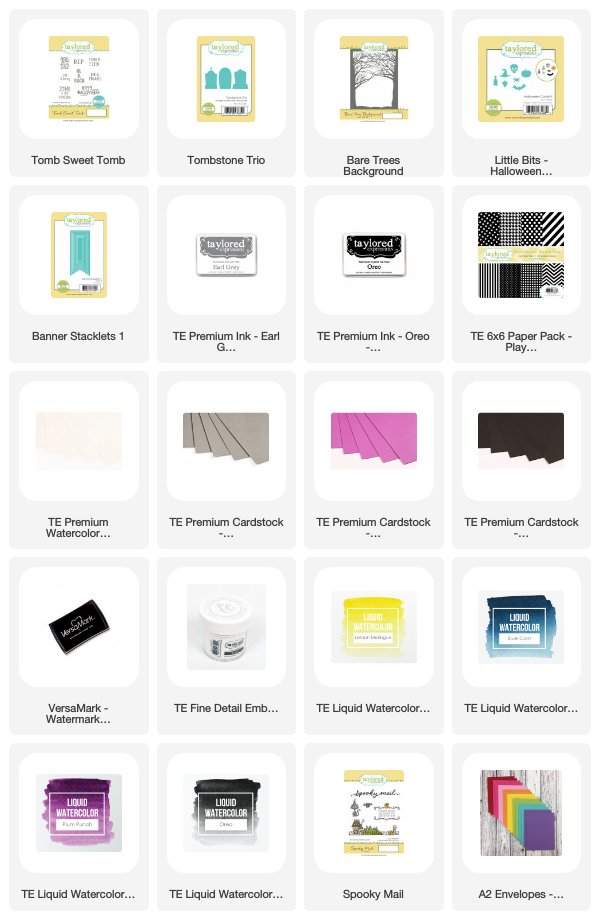 Taylored Expressions is celebrating Release Week with a giveaway during each day of sneak peeks! visit the
TE blog
to answer Taylor's Question of the Day for a chance to win one of the latest products before you can buy it!
Continuing on the Halloween theme, this card isn't spooky - it's goofy!. It's fun and interactive and
so
easy to do with all of the new products.
You don't get the interactive aspect from one picture, so let me show you this one!!
Check out her legs - they wiggle back and forth using the new
On a Hinge
die! The witch is cut from
On a Hinge - Wicked
and the coordinating dies. You simply use the On the Right Track discs and adhesive foam - just as you would with a slider card to build up the hinge so she wiggles around. There is much more detail on the
TE blog
.
The other amazing products on this card is
Foil It - Basics
. These are background patterns that are pre-made to be able to easily use with Deco Foil Transfer Sheets. Just run them through the laminator and you have a foiled pattern!! I'm not sure why I went with the star background and the Rainbow Foil - but with her flashy outfit and dancing legs, I'm calling her my Disco Witch!!!
And to add to the fun - guess what the Double Crafty Point deal is this month? The On a Hinge Bundle!!
That's it from me for goofy and spooky - but there's plenty more to see on the
TE blog
. Tomorrow I have richly colored fall and Thanksgiving cards!
SUPPLY LIST