It's the third day of sneak peeks for the December release from
Taylored Expressions
! Today I have a little love - and a cutting plate that is perfect for any occasion. Everything you see today will be available tomorrow -
Thursday, December 7th
. Be sure to check out each of the creative team members' blogs for all of the sneak peeks - starting with the
Taylored Expressions blog
.
The Sitting Pretty series of dies creates little scenes - either wall groupings (think a variety of framed pictures on ledges) or mantelpiece decorations (along with By the Fireside die set). There's a Sitting Pretty set for each of the holidays/seasons and now we have one for Valentines. They are perfect combined with the rest of the series (like with the fireplace) - but they also stand alone because they have perfect elements for a holiday.
I thought this simple woodgrain banner would be just right for a masculine card. I added the previously released Conversation Hearts embossing folder for a bit of whimsy. The new elements are the "LOVE", the heart and the lips (I replaced the "O" in "LOVE" with the heart and lips.
I don't add a lot of decoration to my masculine cards (I discussed my guys' aversion to "bling" on Monday!) but I do like unique details. For this card, I cut the card itself 1/2" narrower so that the banner could hang over the edge.
Here's the supply list for this card. Be sure to keep scrolling down for a chance at a prize and for another sneak peak.
SUPPLY LIST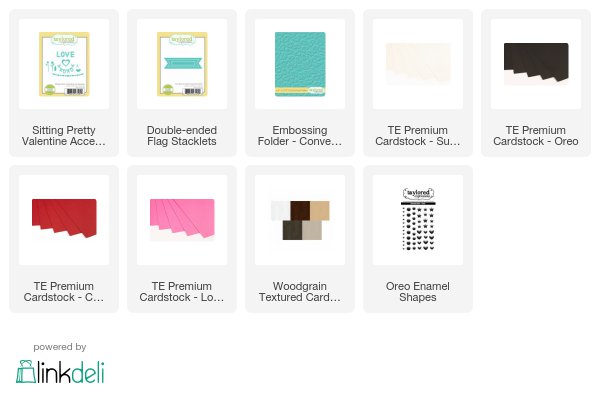 Taylored Expressions is celebrating Release Week with a giveaway during each day of sneak peeks! Visit the
TE Blog
to answer Taylor's Question of the Day for a chance to win one of the latest products before you can buy it!
Next I want to show you the new
Mandala Cutting Plate
. (BTW - there are also new mandala background
stamps
that you can see on the other designers' blogs.) I loved this from the minute that I saw it. It has fabulous detail so you can create a very simple card that looks amazing.
Honestly, even this card adds a few more touches than would be needed. For instance you could do a horizontal card with the mandala on the top or bottom and add the sentiment in the open space. It doesn't get much easier and the mandala is so gorgeous it can stand alone. I've used a sentiment from the previously released Shade Tree Scripture which is one of my all-time favorites (along with the all-occasion Shade Tree Sentiments.)
I focused on crafting simple cards with this die, but I'm sure you can imagine how it could be dressed up. Can you picture a sponged background to it? What about using the negative portions and piecing a rainbow of colors back into it? Gorgeous!!
Be sure to head over to the
TE blog
for a chance at prizes and to see more inspiration! Then come back tomorrow when I have some foodie tags and a tri-fold for coloring.
SUPPLY LIST