It's the first day of sneak peeks for the December release from
Taylored Expressions
! The December release is always about love and Valentines!! In the middle of the love that's such a part of the Christmas season - we are thinking ahead to the love of Valentines Day! Everything you see in the next three days of sneak peeks will be available on
Thursday, December 7th
. Be sure to check out each of the creative team members' blogs for all of the sneak peeks - starting with the
Taylored Expressions blog
.
My first "love" card includes a whale!! It's from the fun new set
One in a Buzzillion
that not only includes this whale but also a bee, a rocket ship, an elephant and more. And it's extra fun because of the new addition to the On the Right Track line of dies. These are dies that make it easy to put together slider cards. The new addition is
On the Right Track - Heart
!
I watercolored a stitched square using Kuretake Gansai Tambi watercolors in Cobalt Blue, Turquoise Green and Pale Aqua. I just swished it around to make an ocean. I cut the heart track, but kept the piece that I cut out to adhere to the background so the ocean colors showed through. (Also - FYI - the stitched banner isn't really this long - I just snipped it in the middle so that it showed above and below the whale.)
Isn't he just fabulous swimming around in his little heart!!?
Here's the supply list for this card. Be sure to keep scrolling down for a chance at a prize and for another sneak peak.
SUPPLY LIST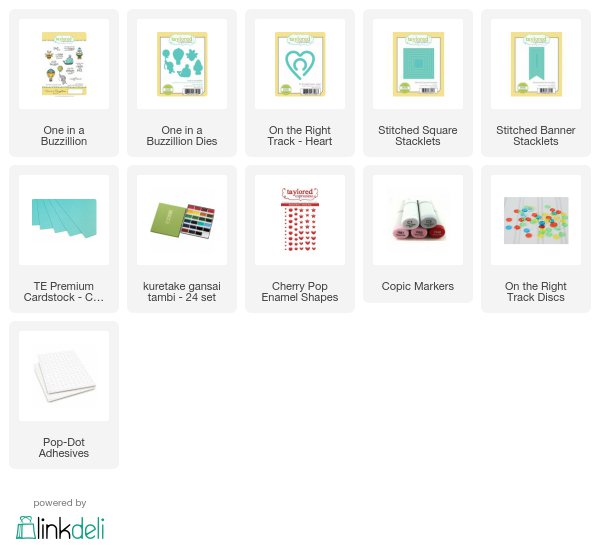 Taylored Expressions is celebrating Release Week with a giveaway during each day of sneak peeks! Visit the
TE Blog
to answer Taylor's Question of the Day for a chance to win one of the latest products before you can buy it!
I adore the entire line of TE stamp sets that include a character and a variety of facial expressions that you can add to the character to match your chosen sentiment. They are so versatile and so much fun to get just the right expressions. The new set -
If Cupid Could Talk
- is the perfect addition to the series.
You also have to remember that I have sons between the ages of 17 and 21 - so this glaring face was just right!!
Because my boys are 17 and 21 (and there's a 59-year old "boy" too!) - I kept it very simple. I'm typically a clean cardmaker - but I often plop on a trio of sequins or enamel dots as an accent. I can't tell you how many times one of the "boys" has walked by my craft table, given my card a critical look and said "too much bling". Seriously??!! I'm actually a bit worried about their reaction to the shiny enamel heart in the middle of my target even though it's black. Do you begin to understand the "Don't make me shoot" sentiment?
I created the target using the Stitched Circle Stacklet. The fun arrow comes from the previously released Follow Your Arrow die set - there's a huge variety of fun arrows in the set so goes perfectly with the new Cupid.
That's it for today. Be sure to head over to the TE blog for more inspiration and for a chance at a prize. Then head back here tomorrow for a fun little gift box and to be a little "love struck".
SUPPLY LIST