It's the third day of sneak peeks for the August release from
Taylored Expressions
. Today I'm stepping away from fall for a bit (although I still made one of my non-autumn themed products into a very autumn-themed cards, can you tell I love the season?!) Everything you see today will be available tomorrow -
Thursday, August 2nd
. Be sure to check out each of the creative team members' blogs for all of the sneak peeks starting with the
Taylored Expressions blog
.
I often give Taylored Expressions a big shout-out for their focus on Christian-theme products (see
yesterday
or the second card today) but I don't always give them enough credit for their sarcasm!! After all, it's a worthy goal to make a card recipient smile or even laugh out loud. The
Grumplings line
of products is one of my all-time favorites for sarcasm. Now we have the
Sarcasti-chicks
!!
Not only is this little chick wildly sarcastic, but she also has mix and match facial expressions and a closet-full of clothes and hairstyles. I've dressed her in the basic
Sarcasti-chick's Closet
but if you browse the rest of the design team you'll see she also has a Halloween closet!!
Behind her I used the new
Shattered Stencil
because it had that slightly crazy look that matches her attitude! (There are
five
new stencils this release!)
I like this little chick. Maybe because I can relate to the humidity problem or maybe it's because she also comes with a wine bottle and appropriate sentiments!! Here's the supply list for this card, but keep scrolling down for a totally different style card.
SUPPLY LIST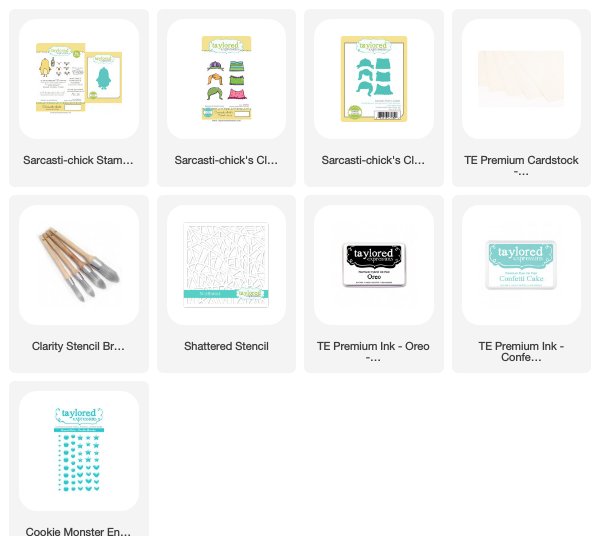 Taylored Expressions is celebrating Release Week with a giveaway during each day of sneak peeks! Visit the
TE blog
to answer Taylor's Question of the Day for a chance to win one of the latest products before you can buy it!
On a totally different note, this release brings us the
Prayers Script Backer - Mixed Media
die to go with the previously released Prayers Script (which also goes with the stamp set You're in my Prayers). The mixed media dies are thicker and can cut other materials such as the Cut & Color Me - White Chipboard. I love this ability because I can pop sentiments without cutting tons of layers and gluing them all together.
There's no reason for the fall theme on this card because clearly prayers are part of every day of the year - but I was loving the rich colors and leaves. The leaves are an extra included with the
Falling Leaves Cutting Plate
. It's a lovely cutting plate but I didn't use the whole thing here - just those extra leaves. I really like the look of them with the open centers.
As I mentioned the backer was cut with chipboard. I didn't want it to stay bright white, so I brushed the edges with Dijon ink. Then I used Gold Foil Cardstock for the "prayers" and Gold Fine Detail Embossing Powder for the stamped sentiment. Definitely an autumn-themed card, but as I move back toward summer crafting, I want to do exactly this card, but maybe in pinks with flowers instead of leaves and the scalloped frame from Frame in Frame 2 - a totally different look!
Tomorrow is release day and I have a few more Halloween and Thanksgiving themed products. Be sure to check out the
TE blog
and the rest of the creative team members' blogs for more inspiration.
SUPPLY LIST