Aloha! It's day 1 of sneak peeks for the June release from
Taylored Expressions
!! There is so much "summer" in this release! Bright colors, cheerful sentiments, tropical flowers and washes of watercolor. I love it! Today we are rolling out some fabulous new product lines and focusing on alohas and mahalos! Everything you see this week will be available on
Thursday, June 7th
. Be sure to check out each of the creative team members' blogs for all of the sneak peeks - starting with the
Taylored Expressions blog
.
My first project uses a new product line - liquid watercolors! If you have followed me for any length of time, you'll know that in general watercoloring has not been my favorite thing - simply because I have a tough time letting go of control. But I have to tell you, liquid watercolors may change my view. It solves one of my main issues and that is that they are ready to go and they will be consistent. I didn't go crazy because I am very much not an expert at watercoloring - but I do adore the look of a soft wash of watercolor as a background. One drop of this and a soft brush, it was easy!!!
Of course, there's more on this card. A new stencil -
Here Comes the Sun
. After a wash of bright yellow, I taped down the stencil and add some Moonstone Glimmer Paste from Nuvo (link below). The backer to the
Hello Script
is new - the
Hello Script Backer - Mixed Media die
. "Mixed media" is key because it lets you know it can cut thicker materials. Do you often find yourself cutting multiples and glueing the diecuts together so it's thicker and stands out? I used the backer die to cut the
Cut & Color Me - White Chipboard
then I have a nice thick and prominent "hello" with a clean white border! The sentiment is new too - it's from
Tiki Time Stamp & Die Combo
.
The liquid watercolors are the big deal this month!
For a limited time, earn
DOUBLE CRAFTY POINTS
when you purchase our
NEW TE Liquid Watercolor Collection!
Included in this exclusive bundle are all 12 bright liquid watercolor hues, our innovative, unique shimmer liquid PLUS a bonus set of 4 mixing palettes to explore your creativity! If you're not a Crafty Points member, it's free and easy to join. Just
create an account
at the
TE webstore
and you're automatically enrolled to begin earning crafty points with every purchase. You'll earn
134 Crafty Points
on the purchase of our
TE Liquid Watercolor Collection
! Offer valid on qualifying purchases made between 9am CDT on Thursday, June 7, 2018 and 11:59 pm CDT on Sunday, June 10, 2018 and only while supplies last. Crafty Points are only available on purchases made via our retail site:
www.tayloredexpressions.com
.
Here's the supply list for this card but definitely keep reading because I have TWO more sneak peeks to show you!
SUPPLY LIST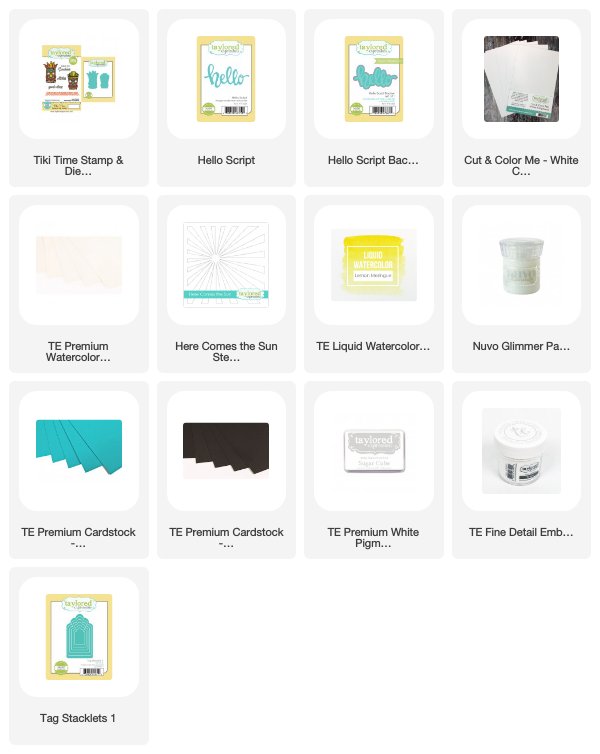 Taylored Expressions is celebrating Release Week with a giveaway during each do of sneak peeks! Visit the
TE blog
to answer Taylor's Question of the Day for a chance to win one of the latest products before you can buy it!
This release is definitely about cheerful, bright colors! Check out the colors in this new paper pack -
Hello Sunshine
. And I've used one of the new cardstock colors -
Blue Raspberry.
I'm a fairly clean cardmaker - you'll generally see lots of white on my cards, but these bright colors made me happy! Notice the only white is to make the new
Aloha Script
pop with the
Backer
die! I didn't want to cover the gorgeous paper too much so I added a strip of vellum, a sun from the previously released Little Bits - Sun & Clouds and flowers from Mini Bloomers 2.
Here's the supply list, but be sure to keep reading for another bright and cheerful card!
SUPPLY LIST
This card uses the new
Tropical Florals
, the dies to go with it, and the new
Tropical Fronds Background
and the yellow is another new colors -
Pineapple
.
I used Granny Smith for the background, then just clear embossed the
Tropical Fronds Background
. I like that the fronds look fresh and dewy but darkened slightly for a fabulous tone-on-tone look. I added a mat in the new
Pineapple
and also
Guava
which was new last release. The flowers use Pineapple and Guava along with a bit of Candy Corn. Then I added a few sequins to go with the dewy idea.
Are you feeling cheery now? I certainly was the entire time I was working with these gorgeous colors and fabulous images and dies! Check out the rest of the inspiration starting with the
TE blog
. And be sure to come back tomorrow when I have some iconic summer treats!
SUPPLY LIST