It's the second day of sneak peeks for the April release from
Taylored Expressions
! Today I'm showing you some wonderful dimensional flower dies and a Christian sparrow set. Everything you see during our sneak peeks will be available on
Thursday, April 5th
. Be sure to check out each of the creative team members' blogs for all of the sneak peeks - starting with the
Taylored Expressions blog
.
If you've followed my blog for any length of time, you'll know that I am all about the cards. It's quite rare that you see anything 3D from me. To be honest - mainly because I'm intimidated by it all. I know cards - I know how to fill a 4 1/4"x5 1/2" space. Dimension is a problem - how do I make it work? But it turns out it works with the right dies to help me!!
I am head over heels in love with this project. The new
Roll With it Flower dies
are cut extra thick (and they are black to differentiate them). Combine that with Taylored Expressions 100% Wool Felt that cuts like a dream - and this project came together quickly and easily! (The butterflies are new too -
Little Bits-Butterflies
!)
The sentiment is embossed with yet another brand new product from Taylored Expressions - embossing powder!! I used the Fine Detail White Powder - it melts beautifully. The sentiment is from the brand new Autism-focused set,
Look with your Heart
although this particular sentiment is not specifically "autism".
TE will be donating 25% of the profits from the sale of every Look with Your Heart Stamp set to the National Autism Society throughout the month of April in honor of
National Autism Awareness day (which was yesterday!)
I also couldn't let a project go by without using another one of our brand new stencils. Today I used the Majestic Stencil with white embossing paste to add a bit of pattern behind my flowers. (The frame and stand were on sale at Hobby Lobby!)
Here's the supply list for this project but keep scrolling down for two different looks on two Christian cards with sparrows!!
SUPPLY LIST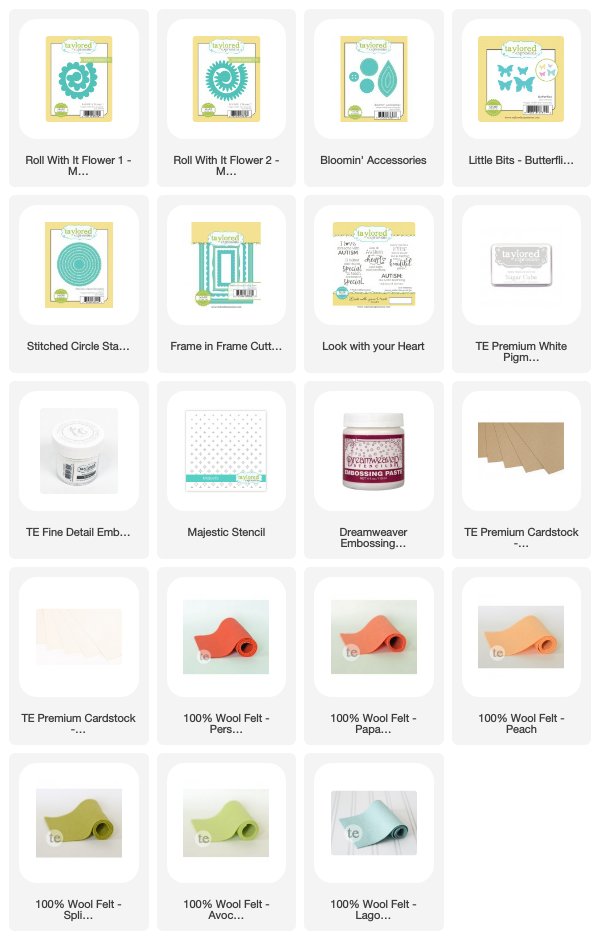 Taylored Expressions is celebrating Release Week with a giveaway during each day of sneak peeks! Visit the
TE blog
to answer Taylor's Question of the Day for a chance to win one of the latest products before you can buy it!
One of the many things I adore about Taylored Expressions is their commitment to Christian products. This month, we have a new addition to the Iconic Wishes line,
Iconic Wishes - Sparrow
. Check the beautiful Christian sentiment that fits in the sparrow.
This is the bold sparrow in the set (more on the other sparrow later). The background is another brand new color -
Guava
- sponged using another brand new stencil -
Chevron Arrow
- to keep the bold and graphic look.
The set also comes with the same sparrow that is just the words. I thought it had a much lighter look so I change the color scheme and, most importantly, used another new embossing powder,
Rose Gold
. It's a beautiful color.
I used the previously-release background stamp,
Notable Blooms
to add some interest to the strip and to show off more of the lovely Rose Gold Embossing Powder. I also tried embossing some enamel shapes and it actually worked! I kept the enamel shape on the background sheet - just cut them out one at a time leaving a square of the background sheet on each one I held the background piece with a tweezer, pressed the shaped into Versamark and covered it with embossing powder. I heated it quickly because I didn't want to risk the enamel melting - and it worked perfectly. As it melted, the powder on the shape and the powder that stuck to the background sheet separated leaving a perfectly embossed shape. I did one extra shape because I wanted to see if it held up - and it does. If you make an effort with a fingernail, you can scrape it off, but not easily.
The supply list follows, but I didn't want you to miss the special deal on stencils this month
. For a limited time, earn DOUBLE CRAFTY POINTS when you purchase our Stencil Bundle which includes all 6 of our new stencil designs! If you're not a Crafty Points member, it's free and easy to join. Just create an account at the TE webstore and you're automatically enrolled to begin earning crafty points with every purchase. You'll earn 84 Crafty Points on the purchase of our Stencil bundle! Offer valid on qualifying purchases made between 9am CDT on Thursday, April 5, 2018 and 11:59 pm CDT on Sunday, April 8, 2018 and only while supplies last. Crafty Points are only available on purchases made via our retail site: www.tayloredexpressions.com.
Be sure to check out the rest of the design team starting on the
TE blog
. Then come back tomorrow to see another new and creative product line!!
SUPPLY LIST