It's the big day! All the Taylored Expressions products you've seen through sneak peek week are now available - and I have a few more to show you. Be sure to head over to the
Taylored Expressions blog
for a few more peeks - and to see if you've won a prize.
Yesterday I showed you "
Dad" from the Caps Lock series
of stamps and dies making an eclipse card. I thought I should show you a Mom card today but I just used the die cut letters. Plus, I've been practically giddy all week over the new stencils so here's
Blooming Beautiful.
So far this week, I used the new stencils by sponging on color, I glimmered them, and I used embossing paste. Today I dry embossed the stencil which gives a soft dimensional look, then I lightly brushed it with the same color.
The new dies
Bloomers 8
perfectly coordinate with the stencil so I added a flower and a few sprigs of greenery using the previously released
Flower Box Sprigs & Flowers
. I added a few metallic sequins simply because I love the look of silver/gray and pink!
Here's the supply list for this card but keep scrolling down because there's another peek.
SUPPLY LIST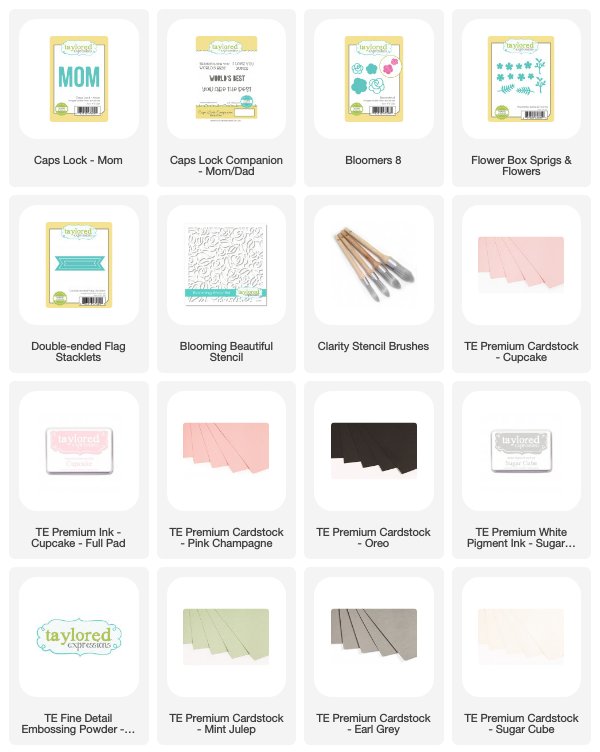 As a final peek before you go shopping, I had to show you a new fabulous background
Triangle Tetris
.
Check out the fun details in this background. Did you notice that not every area is filled with triangles? It gives it such a unique look. There is so much you can do with this. I started with the idea of loose watercoloring in each triangle. But as I was pulling out supplies, my husband wandered by my desk and casually (and cluelessly) mentioned that he would need 12 graduation cards for kids on the lacrosse team he coaches and 6 for the kids he taught years ago in Confirmation. (The average man does not appreciate the time and attention to each and every card.) Even so, it made me look seriously this background and realize what amazing detail it would give to a quick and easy card.
It also gave me a chance to show you one more of the embossing powders,
Fine Detail Gold
. These new embossing powder melt beautifully! The word is the previously released
Congrats Script
cut using
Gold Foil Cardstock
which I placed on vellum to separate it from the gold triangles. A few black stars from
Oreo Enamel Shapes
and I'm done. You could easily add school colors into this card for each graduate.
Remember...for a limited time, earn
DOUBLE CRAFTY POINTS
when you purchase our
Stencil Bundle
which includes all 6 of our new stencil designs
!
If you're not a Crafty Points member, it's free and easy to join. Just
create an account
at the
TE webstore
and you're automatically enrolled to begin earning crafty points with every purchase. You'll earn
84 Crafty Points
on the purchase of our
Stencil bundle
! Offer valid on qualifying purchases made between 9am CDT on Thursday, April 5, 2018 and 11:59 pm CDT on Sunday, April 8, 2018 and only while supplies last. Crafty Points are only available on purchases made via our retail site:
TE webstore
.
That's enough chatter for today because I"m sure you'd like to be shopping.
The store
's open!
SUPPLY LIST