It's day 3 of sneak peeks for the October release from
Taylored Expressions
and today it's about the true meaning of Christmas. Everything you see today will be available on
Thursday, October 3rd.
Be sure to check out each of the creative team members' blogs for all of the sneak peeks starting with the
Taylored Expressions blog
.
I have two cards today. First I want to show you another new series of dies. I had a series yesterday that built wintery outdoor scenes. Today's dies build nativity scenes.
I used the two dies in
A Savior is Born
on this card. But there's another set with two dies called
Follow the Star
(the star on my card is part of that set). I cut the two in the other set just as samples for you to see. All four can layer up for an amazing scene - you will definitely have to pop over to the
TE blog
and the rest of the creative team for inspiration on all of the options.
Also new on this card is the Label Stacklets 12 set - a set of dies in various sizes that are creche-shaped!!
I kept the card very neutral, except for the burst of light in the background that I created using the previously released Here Comes the Sun stencil and Pineapple Ink. I used Blender Brushes to brush it on heavily through the stencil, then a lighter amount over the entire piece. I also wanted to a bit more sparkle so I added clear glitter to the inner label/frame and to the sun. And, of course, another sentiment from Simple Strips - Christmas!
Here's the supply list for this card - but keep scrolling to see a second card and for all the fun and prizes with this release!
SUPPLY LIST
Remember that the new links won't work until Thursday.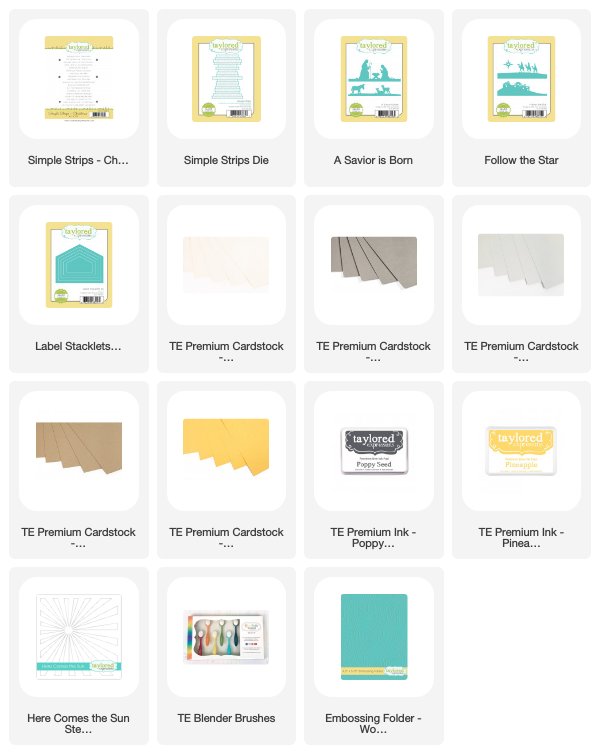 Have yourself a merry little Christmas! Every order placed between October 3rd - October 6th will earn
DOUBLE
crafty points to apply to a future purchase! Plus, receive
FREE U.S. shipping
on orders over $25 OR $5 off shipping for residents of Canada with the code CANADA5.
Now for a stunning Nativity Background that along with Simple Strips - Christmas make gorgeous but easy Christmas cards.
Another brand new color in this release is Poblano Pepper. Not really a color name that I associate with Christmas (!) but I think it worked very well on this one-color card.
The background is lovely and can stand alone but to give it just a bit more dimension, after I stamped it, I cut out a frame with the previously released Stitched Frame Stacklet. That frame also gave me the perfect place to highlight a sentiment from Simple Strips - Christmas below the Rejoice that is already part of the background stamp.
One of the things I like about this stamp is that it's not 100% solid - it has little open spots to give a textured, vintage look. But what I really like about that is it makes it much easier to stamp - I don't have to get 100% perfect coverage and it still looks great!! In fact I like this stamp so much (and there are other sentiments in Simple Strips that work below the "rejoice" that I made a set of four!)
There's not a company out there that does nativity scenes better than Taylored Expressions. If you don't believe me, go to their store and search on "nativity" (and these two new items won't even be there until Thursday!
And for even more fun and prizes,
Taylored Expressions is celebrating Release Week with a giveaway during each day of sneak peeks! Visit the TE blog to answer Taylor's Question of the Day for a chance to win one of the latest products before you can buy it!
Be sure to come back tomorrow - it's still Christmas around here and tomorrow I have two of my favorites from this release. One set I loved so much, I made six Christmas cards!! The other is truly stunning die set.
SUPPLY LIST
Remember that the new links won't work until Thursday.