It's release day at
Taylored Expressions
!! Everything you have seen this week is now available. Have fun Christmas shopping! Be sure to head to the
Taylored Expressions blog
to see more samples of the fabulous new stamps and dies (and to see if you've won a prize) - then visit the rest of the creative team for more inspiration!
I have two more cards for you. The first is clean and simple, and embodies the true meaning of Christmas using the new
Little Bits - Dove
.
That dove is so elegantly shaped - I wanted it to be the full focus. I found this lovely sentiment in the previously released
In & Out Christmas
.
Have you ever noticed how each of us have certain colors that we gravitate towards and against? I am always amused when a cardmaker writes that they hate a certain color and just can never make it work on their cards - but the color they are talking about is one of my favorites! It's the same for me and I'm sure many of you would disagree with my preferences. In greens, I can never find a way to use pastel greens or even bright Christmas greens. I lean strongly toward more olive or natural greens. But as I was putting this card together, my folder of Mint Julep cardstock kept jumping up and saying "pick me, pick me" and I'm so glad I did. It was a wake up call for me to quit just flipping by certain cardstocks when I'm picking out colors for a card. Whether or not it's one of my favorite colors - sometimes it's the right pick for a card! (In fact, I ended up liking this card so much, I now have eight of them in my Christmas stash!)
Here's the supply list for this card and keep reading for one last peek.
SUPPLY LIST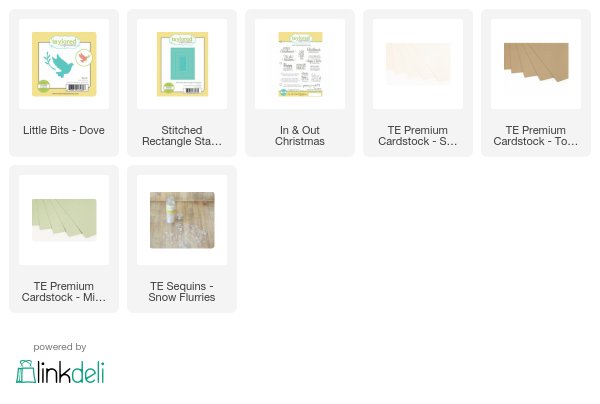 The dove was the "hope and joy" and now we have the "fun and snow"!
I am a huge fan of the previously released
Quick Critters Stamp & Die Combo
. There are simple little animal silhouette dies with little hearts in them - plus faces you can stamp on - and a number of sentiments. They make me smile and they are SO easy to work with! Imagine my excitement when this release included
Quick Critters - Winter
!!
I took the "quick critters" and made a fairly complex card (at least complex for me!) They can easily stand on their own - just a quick critter and sentiment and you've got a cute card. But I wanted to use them all. I started with the previously released Mini Colorblock Cutting Plate and layered up three of them. There are scalloped squares that fit inside each of the windows - I left the negative of the scallop squares in the two windows with critters to give them a fun little frame. I added a glittery snowy hill in the large window and then used the snowflakes from the new Matchy Backgrounds - Holiday (sized to work with the Matchbox die but perfect for inside my window) to add a bit of snow. I dropped in a few snowflakes from Little Bits - Snowflake Confetti and a few gems that I colored pink using Copics.
Another great addition in this release is Merry Mail 1 and Merry Mail 2 that you can use to decorate your envelopes such that they are worthy of the work of art you've tucked inside!! I used Merry Mail 2 and added a decorative address box to my envelope colored in the same colors as the card. The colors give it the fun look - but you could just as easily go with traditional colors to match a different type of card.
That's it for now - and it's time to go shopping!! But don't forget to pop by the
TE blog
for more inspiration and prizes.
SUPPLY LIST