It's the second day of sneak peeks for the October release from
Taylored Expressions
! It's still Christmas on my blog! Today I have a quick, easy, snowy card and an elegant, detailed Nativity scene. Everything you see in the next three days of sneak peeks will be available on
Thursday, October 5th
. Be sure to check out each of the creative team members' blogs for all of the sneak peeks - starting with the
Taylored Expressions blog
.
My first card is extremely detailed - but not overly difficult given that all of the die sets I have used work perfectly together!
The new die set on this card is
Build a Scene - Nativity
. It is a must-have set for any cardmaker doing Christian focused Christmas cards. I've put it on top of
By the Fireside
and decorated with some accessories from
By the Fireside - Holidays
- but this Nativity can go SO many ways (definitely check out the rest of the creative team for a myriad of ideas). Plus realize that I've used just a few of the pieces on my card. There are also three wisemen, two shepherds, two sheep, a stable, and an angel along with Mary, Joseph and the baby Jesus.
I was feeling very nostalgic when I got the mantelpiece decorated. It looked just like my mom's decorations as I was growing up. Every shelf and open space in my childhood home was covered with Christmas decorations and about a 100 candles and then greenery wound in and out. Perhaps a little overdone - but absolutely gorgeous! (It made me realize why I love creating little scenes and groupings on my cards - it's hereditary!) I ended up completing my scene just as my mom would have - with groupings on the floor and a sign of "joy"! (FYI - the joy is actually from a frame,
Picture Perfect - Horizontal
- I just trimmed out the words and added a frame from
Sitting Pretty
. )
Also notice all the shiny parts!! Those are cut from our new
Gold Foil Cardstock
and
Silver Foil Cardstock
.
Here's the supply list for this card and
be sure to keep reading
for a chance at prizes and for another sneak peek.
SUPPLY LIST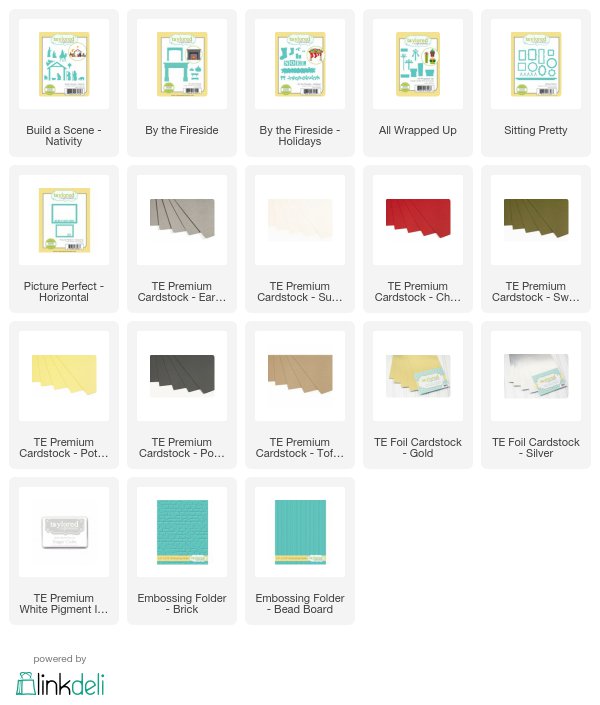 For my second card - I went much simpler using the
Snowed In Background
. This would be an easy card to mass-produce. I chose one of my favorite bold colors to give it some pop and white embossed it all!
This background could be stepped up so easily. Add a winter scene with dies. Cut out the circle and do a shaker. Sponge the background. As always - be sure to check out the rest of the design team for many more ideas.
The sentiments comes from the coordinating set
Snowed In Sayings
. Each saying is done in such fun fonts! I felt like the sentiment got a bit lost on all of that Plum Punch and big snowflakes, so I plopped on some sequins - but even those got lost. I had already put dots of Stickles in the middle of the big snowflakes so I experimented and smeared some on clear sequins. LOVE the results - these sequins really pop.
Be sure to visit the
Taylored Expressions blog
because there's a chance at
prizes
just for leaving a comment!! Then come back and visit all of us tomorrow for more Christmas festivities! I've done a 3D project which isn't normal for me - but I had SO MUCH fun doing it particularly with dies that make it all so easy.
SUPPLY LIST