It is a
huge
week for Taylored Expressions - 10 years!! We are celebrating 10 years of fabulous products, inspiration and sharing joy! So we are having a week-long birthday party with lots of new products and guess what? All the new products are already available for purchase
here
!!
What's a party without balloons? And to make it extra special - what about shaker balloons with a new shaker filling?
The balloons are from Celebrate Big. Besides the two you see, there's a third balloon that says "wish big". The frame is the Celebrate Big Balloon Shaker. I filled it with the new Hello Sunshine Shaker Filling which includes the same colors as last month's new Hello Sunshine Paper Pack so I added a fun strip of that down the side! Of course, we have to have a string so I used the Balloons Strings die.
There's very little more celebratory than big balloons plus check out the sparkle in that filling!
Here's the supply list for this card but keep reading for some Party Favors and another card with new products!
SUPPLY LIST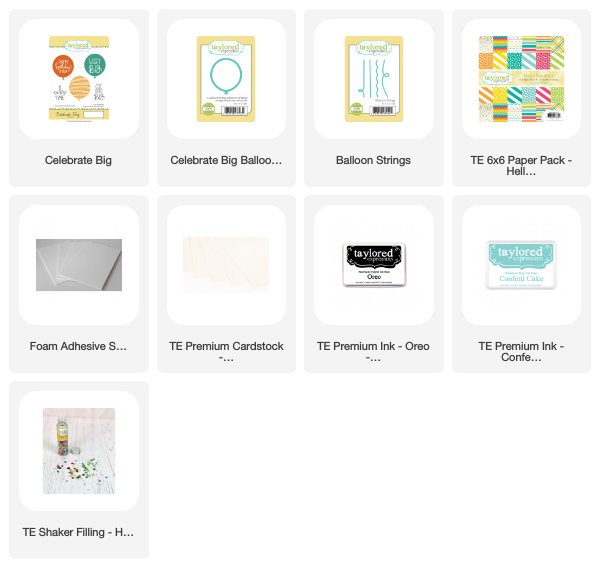 No party would be complete without party favors - check these out!!
We also have an addition to the Caps Lock line - we now have Caps Lock - Happy! And there are two stamp sets to go with it. I've used Caps Lock Companion - Happy Occasions which includes birthday, new home, retirement and more. There's also Caps Lock Companion - Happy Holidays which includes Halloween, New Year, 4th of July, Easter and more. You can use these sets year-round!
It's a birthday party - so I used birthday.
I stamped a strip of "birthdays" making sure they extended slightly above and below the size of the "happy" die. Then I cut out "happy". The Caps Lock series are easy to work with because they don't have individual letters - it's one big word - so you don't have to worry about lining them up and spacing them evenly!
I then sponged each letter using a lighter color at the top and darker at the bottom. I cut "happy" twice more out of plain cardstock and layered them up for some dimension, then adhered them back into the spaces.
Also new this release is The Inside Scoop - Birthday and The Inside Scoop - Belated Birthday. I always need sentiments for the inside. (I can try my hardest and my handwriting still isn't legible - I have to stamp the insides!) I fell in love with this sentiment from Belated Birthday.
I wanted to mirror the outside of the card - so I stamped everything above the "me", then I stamped everything below making the space between them big enough for my letters from Mini Caps Alpha & #s dies. (The actual stamp has "me" there, I just used it differently). I cut and sponged those letters to mirror the front and then added the dot-dot-dot with enamel shapes.
Hopefully I'm not late for a birthday - I'm fairly obsessive about my calendar and planner! But as cute as this, I may just have to do it on purpose!! (Tomorrow's card has an inside using the regular birthday sentiment set - so be sure to check back!)
SUPPLY LIST