It's the third day of sneak peeks for the November release from
Taylored Expressions
. This release has been all about gift-giving and fun, unique products. Today is no exception. Everything you see today will be available
tomorrow
! Be sure to check out each of the creative team members' blogs for all of the sneak peeks - starting with the
Taylored Expressions blog
.
We have a fun new, oversized sentiment set that makes it so easy to create a special card. There is also a new pre-printed product of borders that frame these sentiments perfectly!!!
Such an easy card to make - but with the sentiment, it's big and bold and makes a statement. The check border comes from the
Boxed In Basics
pre-printed doodle borders and I simply colored it in. (There are a variety of borders the set so you can pick and choose your style.) The
Bubble Greetings
stamp set includes this sentiment plus three more. I added a few music notes and a few enamel dots And it's done!!
I also took the same stamp in a different direction. Just as simple - but the sentiment keeps it fun and bold. This is the new
Playful Patterns - Savory
paper set - my all-time favorite color scheme!
I love products that can take on so many different looks! Here's the supply lists for these cards but be sure to keep scrolling for a chance at prizes and another sneak peek.
SUPPLY LIST (first card)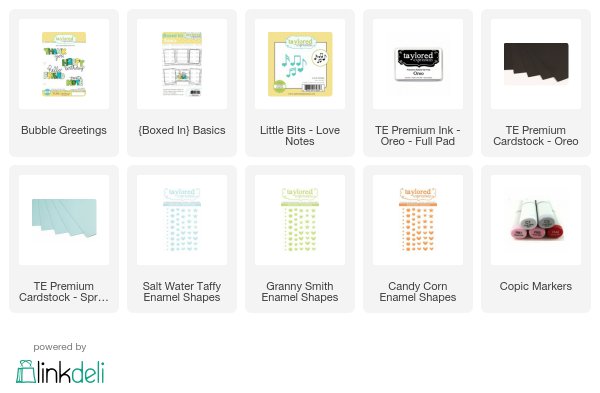 SUPPLY LIST (second card)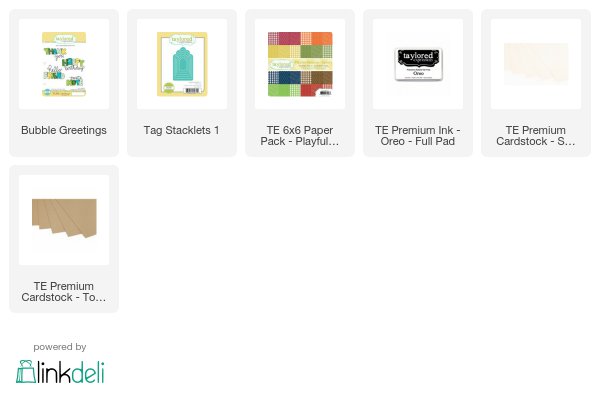 Before I go on to the next new product, don't forget that
Taylored Expressions is celebrating Release Week with a giveaway during each day of sneak peeks! Visit the
TE Blog
to answer Taylor's Question of the Day for a chance to win one of the latest products before you can buy it!
Whenever I receive a card and the envelope is decorated, I'm smiling before I even open the envelope. Taylored Expressions knows this and has come out with a variety of products that allows us to add that special touch.
The
Scalloped Envelope Liner
die cuts patterned paper into the perfect shape to fit inside their A2 Envelopes (which come in various colored sets even though you'll only see white in my samples). Last month, two stamp sets specifically for envelopes were released -
Merry Mail 1
and
Merry Mail 2
. This month the line has expanded with a non-holiday set called
Snail Mail
. Each set has a variety of stamps to decorate or to add address boxes, etc. I went back to
Merry Mail 1
to create these Christmas envelopes.
(Just to be totally clear - there are two envelopes in each photo. One is flipped to the front so you can see the stamped images and one to the back so you can see the liner.)
I added a splash of color with the new patterned paper from the Bold pack, then the sweetest little dog - even if he is chewing the mail!!
For the second envelope, I used paper from the Savory pack. Then that fabulous long sentiment and two trees. (BTW - the new non-holiday set mentioned earlier has a long sentiment like this that says "snail mail" - LOVE these!)
The third envelope goes back to Bold paper. I just had to use that charming bird image. My original thought is that one of those birds would be really cute sitting on the address, but I quickly realized that with my terrible handwriting, showing you one that I had actually addressed would be a negative distraction from the fun stamp!! So I ended up doing a variety of colors across the bottom.
Tomorrow's the big day! I have another sneak peek and then you'll have to head first to the TE blog to see if you've won a prize and then to the TE store!!
SUPPLY LIST